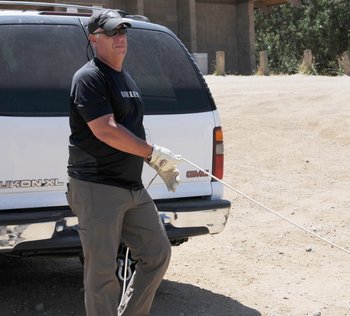 Bart Barnack's career in law enforcement/ public safety started as a life guard, EMT, life guard supervisor, member of the national ski patrol and then in May 1977 in a small town in western Massachusetts his law enforcement career began. Mr. Barnack posses an A.S. Degree in Law Enforncment, 1978 and a B.S. degree in Criminal Justice with a minor in Psy. 1980. In 1981 Mr. Barnack was hired by the Daytona Beach Police Department and he retired in September 2002. During his career he had numerous assignments: Patrol. FTO, SWAT, Sniper, Motorcycle Officer, Traffic Homicide Investigator, Training Officer and Detective Office of Special Investigations – Organized Crime/Intelligence. Supervisor: Patrol, Training – USE of Force, Defense Tactics, Firearms, Pursuit, Human Diversity, Police Vessels and Operations. Started the Police Marine Unit and was later assigned the Fire Departments Marine Unit. Co- SWAT Team Leader. Detective Sergeant Narcotics. Additional information became cross trained for Custom's Blue Lighting Officer for Maritime Operations, in 1988 became a USCG licensed vessel Captain – Master License . Adjunct Instructor Daytona Beach Community College – Police Training Academy and advanced in-service training courses.
In 2004 Mr. Barnack was selected for a special counter terrorism project in Baghdad, Iraq. Mr. Barnack was part of the Crisis Response Team a DOD/DOS project of selected law enforcement professionals and elite military special operators. The team developed Iraq's Emergency Response Unit. A Tier One, National Asset Program for the country of Iraq.
In 2005 Mr. Barnack was selected as a Team Leader for the Iraqi SWAT Project, which included course development, hiring/termination of instructors, translators and all equipment needed for a national SWAT Team. In addition oversaw the four week training program and lead instructor.
Mr. Barnack and some of his teammates were selected for a special project at the US Embassy, Kabul. Afghanistan. Anti-Terrorism/Counter-Terrorism; Subject Matter Experts, Instructors and Operations.
In 2006 Mr. Barnack was selected as a Special Criminal Investigator for the DOD in the JIEDDO – Joint IED Defeat Organization. I was assigned to Baghdad, Iraq, where I collected intelligence, conducted field operations, conducted raids and conducted sensitive site exploration. In addition to conducting numerous raids, but Mr. Barnack was involved numerous combat patrols in Baghdad.
Injuries in Iraq meant Mr. Barnack was no longer deployable.
Upon recovery from his injuries Mr. Barnack continued training first responders in the threat America faces post 9/11.
In 2010 NASBLA hired Mr. Barnack and Tactical Training Solutions, Inc as a contract instructor for the maritime courses they were launching. NASBLA is a major client.
Also Tactical Training Solutions, Inc. has been involved in several pre-event planning, post incident reviews, product development and expert witness services.
Pre-event planning included from developing operation plans, intelligence gathering, intelligence base policing to pre-event tactical training.
Post Incident for lessons learned and to fine tune training issues identified.